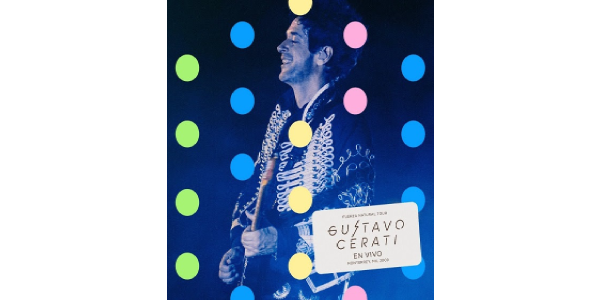 November 21st, 2019
El concierto del ícono del rock en español: FUERZA NATURAL TOUR GUSTAVO CERATI EN VIVO EN MONTERREY, MX, 2009 está disponible ahora
MIAMI (21 de noviembre, 2019) – A 10 años exactos del primer show de su última gira, el 19 de noviembre se presentó por única vez en cines Fuerza Natural Tour, Gustavo Cerati, en vivo en Monterrey, MX, 2009.
Más de 15,000 personas pudieron ver el show en salas de Argentina y otras 15,000 en distintas ciudades de Latinoamérica, España y los Estados Unidos.
La premiere realizada en la Ciudad de Buenos Aires contó con la presencia de la familia Cerati y de algunos de sus músicos.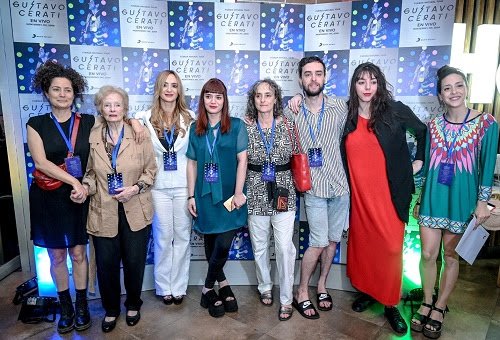 La familia Cerati en la premiere en Buenos Aires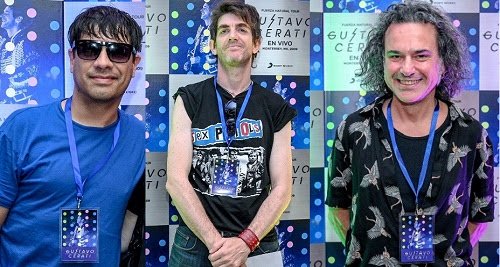 Los músicos Leandro Fresco, Fernando Nalé y Richard Coleman también dijeron presente.
El show completo, ya está disponible en plataformas digitales.
El 19 de noviembre de 2009 quedará en la historia de la música latinoamericana. Esa noche en el estadio de béisbol de la ciudad de Monterrey, México, y ante más de 10.000 personas, Gustavo Cerati daba inicio a la que sería su última gira.
Presentando su último disco de estudio, Fuerza Natural, esa actuación quedaría grabada para siempre gracias al registro fílmico realizado con los mejores recursos técnicos del momento.
Diez años después, presentamos FUERZA NATURAL TOUR, GUSTAVO CERATI EN VIVO EN MONTERREY, MX, 2009. Un show de 25 canciones, presentado en dos actos; el primero, con Fuerza Natural de principio a fin, y el segundo, con los mejores éxitos de la carrera solista de Gustavo.
Filmado por Plataforma, dirigido por Diego Álvarez y reeditado por Leandro Spatz, el sonido es la mezcla directa de la consola del show realizada por Adrián Taverna. Las actuaciones son las mismas que se ejecutaron esa noche, no hay ningún retoque, ni regrabación, ni remezclas.
Historia:
Después de la gira de reencuentro de Soda Stereo en 2007, Gustavo Cerati continuó su carrera como solista gozando de una libertad creativa total y disfrutando del proceso de grabación de lo que dos años más tarde iba a ser "Fuerza Natural".
Además, se dedicó por completo a preparar la gira presentación de su nuevo álbum, su quinto como solista, con un show de alta producción. Cerati convocó al diseñador Martin Philips (que había trabajado con Nine Inch Nails, Daft Punk y Soda Stereo, entre otros) para que realizara la escenografía y el diseño de iluminación.
Sumó a su equipo a Manuel Morales como encargado de vestuario y al resto de su staff habitual, como Nicolás Bernaudo a cargo de las visuales y Adrián Taverna en el sonido.
Todo el proyecto estuvo bajo la producción técnica de Diego Sáenz y la dirección ejecutiva de Fernando Travi.
Para la formación de la banda convocó a Richard Coleman (guitarra), Fernando Nalé (bajo), Leandro Fresco (teclado y coros), Fernando Samalea (batería y percusión), Gonzalo Córdoba (guitarras) y a Anita Álvarez de Toledo (coros).
Luego de los ensayos en Buenos Aires todo el equipo se trasladó a Monterrey, México, para realizar el ensamble final de la producción del show y para hacer un ensayo general.
El debut en Monterrey fue un show perfecto que se vivió como un festejo para todos.
Sobre FUERZA NATURAL (Álbum de Estudio):
Editado por Sony Music en toda Latinoamérica el año 2009, Fuerza Natural contó con el arte de tapa de Roy García y las fotografías de Germán Sáez.
Ese mismo año Fuerza Natural alcanzó el Galardón de disco de Oro en Argentina y ganó en el 2010 las siete categorías a las que estaba nominado en Los Premios Gardel: Álbum del año (Gardel de Oro), Mejor Álbum Artista de Rock, Mejor Diseño de Portada, Ingeniería de Grabación, Producción del Año y Déjà Vu fue elegida como Canción del Año y como Mejor Video Clip.
Además, Fuerza Natural ganó tres premios Latin Grammy: Mejor Álbum de Rock, Mejor Diseño de Portada y Déjà Vu como Mejor Canción.
Listado de canciones del show en Monterrey:
1.- Fuerza Natural
2.- Magia
3.- Déjà vu
4.- Desastre
5.- Rapto
6.- Amor Sin Rodeos
7.- Tracción a Sangre
8.- Cactus
9.- Naturaleza Muerta
10.- Dominó
11.- Sal
12.- Convoy
13.- He Visto A Lucy
14.- Zona de Promesas
15.- Pulsar
16.- Te Llevo Para Que Me Lleves
17.- Marea de Venus
18.- Crimen
19.- Paseo Inmoral
20.- Cosas Imposibles
21.- La Excepción
22.- Adiós
23.- Puente
24.- Lago En El Cielo
25.- # – Numeral
---
A Concert Video From The Latin American Rock Icon: FUERZA NATURAL TOUR GUSTAVO CERATI EN VIVO EN MONTERREY, MX, 2009 Available Now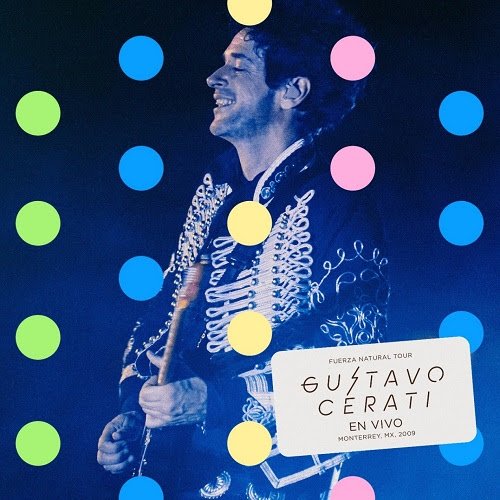 MIAMI (November 21, 2019) – On November 19, the 10th anniversary of the first concert of Gustavo Cerati's final tour, the concert film Fuerza Natural Tour, Gustavo Cerati, En Vivo en Monterrey, MX, 2009 was screened for a one-night engagement at cinemas worldwide.
Over 15,000 people attended the presentations which took place in his native Argentina, as well as across Spain, Latin America and the United States.
The premiere, which was held in Buenos Aires, was attended by his family and several of his musicians.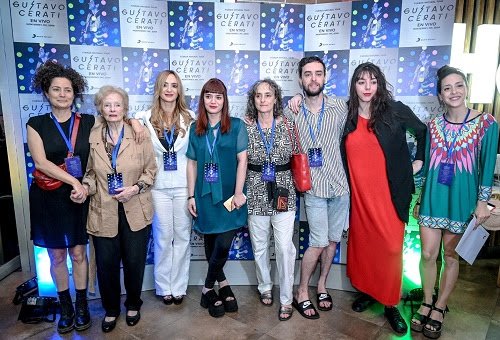 The Cerati family attends the premiere in Buenos Aires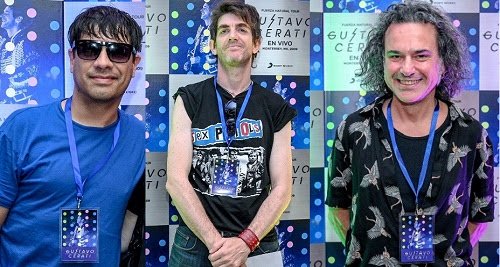 Cerati's band members Leandro Fresco, Fernando Nalé and Richard Coleman were on hand
The complete concert film is now available from digital-media outlets.
Gustavo Cerati kicked off what would be his last tour on November 19, 2009, at Monterrey, Mexico's baseball stadium, for over 10,000 spectators.
Touring in support of his final studio album, Fuerza Natural, he was filmed with professional-quality equipment.
Ten years later, we can enjoy Fuerza Natural Tour, Gustavo Cerati, En Vivo en Monterrey, MX, 2009. This 25-song set comprises a complete live performance of Fuerza Natural, followed by renditions of his biggest solo hits.
Filmed by Plataforma, directed by Diego Álvarez and edited by Leandro Spatz, this release takes its sound straight from the console mix which was handled by Cerati's veteran sound engineer Adrián Taverna. No post-production whatsoever has been applied.
Gustavo Cerati passed away on September 4, 2014, after suffering a severe stroke in May 2010.
Background:
After his 2007 reunion tour with his band Soda Stereo, Gustavo Cerati resumed his solo career on his own terms and began working on his fifth album Fuerza Natural.
He spent long hours planning the tour in support of the album, making sure the production values were top-notch. Cerati put the renowned creative designer Martin Philips (Nine Inch Nails, Daft Punk, Soda Stereo) in charge of crafting the stage and lighting.
He brought on Manuel Morales as wardrobe designer and continued working with his longtime collaborators Nicolás Bernaudo on visuals and Adrián Taverna on the live sound.
The project was under the technical production of Diego Sáenz and executive direction of Fernando Travi.
His band consisted of Richard Coleman (guitar), Fernando Nalé (bass), Leandro Fresco (keyboard/backing vocals), Fernando Samalea (drums and percussion), Gonzalo Córdoba (guitars) and Anita Álvarez de Toledo (backing vocals).
After rehearsals in Buenos Aires, the team traveled to Monterrey, México, to assemble all the elements of the performance and do a dress rehearsal.
Opening night in Monterrey was a magical event, a celebration shared by all.
About The Album FUERZA NATURAL:
Released by Sony Music in 2009 across Latin America, Fuerza Natural features cover art by Roy García and photography by Germán Sáez.
The same year, it went Gold in Argentina and in 2010 swept the seven categories in which it was nominated at Argentina's Premios Gardel: The Gold Gardel for Album of the Year, Best Album by a Rock Artist, Best Cover Art, Best Engineered, Best Production, Song of the Year and Best Music Video (the latter two for album track "Déjà Vu").
Fuerza Natural also netted three Latin GRAMMY® awards for Cerati in November 2010: Best Rock Album, Best Rock Song ("Déjà Vu") and Best Album Package.
Monterrey Set List – Songs 1-13 and 25 are from Fuerza Natural:
1.- Fuerza Natural
2.- Magia
3.- Déjà vu
4.- Desastre
5.- Rapto
6.- Amor Sin Rodeos
7.- Tracción a Sangre
8.- Cactus
9.- Naturaleza Muerta
10.- Dominó
11.- Sal
12.- Convoy
13.- He Visto A Lucy
14.- Zona de Promesas
15.- Pulsar
16.- Te Llevo Para Que Me Lleves
17.- Marea de Venus
18.- Crimen
19.- Paseo Inmoral
20.- Cosas Imposibles
21.- La Excepción
22.- Adiós
23.- Puente
24.- Lago En El Cielo
25.- # – Numeral
Sigue a GUSTAVO CERATI en / Follow GUSTAVO CERATI on:
www.facebook.com/gustavocerati