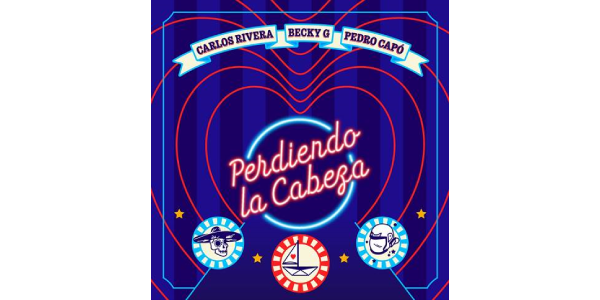 January 31st, 2020
Las estrellas latinas del momento CARLOS RIVERA, BECKY G & PEDRO CAPÓ están "PERDIENDO LA CABEZA"
Carlos Rivera, Becky G & Pedro Capó presentan un muy divertido tema "Perdiendo la cabeza"
Luego de más de 100 shows en toda Hispanoamérica el mexicano cerrará su Guerra Tour en México con un magno show 360° en la Arena Ciudad de México el próximo 5 de junio y el cierre de la gira internacional el 1 de agosto en Marbella en Starlite.
MIAMI (31 de enero, 2020) – El pasado mes de diciembre un post en redes sociales hizo que los millones de seguidores de Carlos Rivera "Perdieran la Cabeza". Debido a que se vio al cantautor, conocido por sus conmovedoras baladas, junto a Becky G & Pedro Capó, dos de los íconos más importantes de la música latina. La foto creó mucha expectativa; sin embargo, el resultado final superará cualquier noticia. "Perdiendo la Cabeza" es una nueva joya en la carrera del talentoso mexicano.
En esta canción Carlos sorprende y deja claro que no para de crecer y reinventarse. "El nuevo pop es esto, es lo que estamos escuchando, es lo que nos contagia para bailar", comentó el originario de Huamantla, quien ha dicho que "Perdiendo la Cabeza" es su muy personal manera de acercarse a la música latina del momento. Esto a través de un enfoque más romántico y divertido que muestra la flexibilidad de sonidos mundiales y cómo pueden ser del gusto tanto de adultos como de niños.
Y es que el tema suena muy diferente a lo que estamos acostumbrados. El sello de Rivera se siente desde el principio gracias a una guitarra con la que el artista combina las raíces de lo mexicano con un sonido mundial logrado con la fuerza de sus invitados. "La presencia de Becky & Pedro era muy importante porque nos conocemos y quería estar rodeado de amigos", agregó el cantautor que se ve alegre en el video junto a un Pedro Capó vestido de mariachi tratando de conquistar a la talentosa Becky G.
El clip es una nueva genialidad de Nuno Gomes, creador de los videos musicales más cautivadores de la industria musical de los últimos tiempos, con reconocidos trabajos para Maluma, Ozuna, Bad Bunny, Reik, Camila, entre otras leyendas. La competencia por enamorar a Becky es así, el mejor cuadro para esta canción escrita por Carlos junto a Andrés Torres y Mauricio Rengifo, la dupla creadora de éxitos para Luis Fonsi, Sebastián Yatra, Morat y Thalía, entre otros.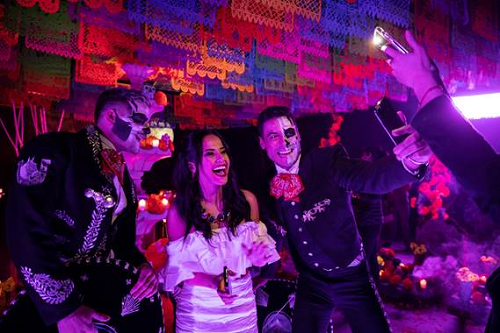 Esta no es la primera vez que Carlos incursiona en este tipo de ritmos. Previamente ya había dado muestras de su versatilidad gracias a "Lo Digo", que en la edición deluxe de su álbum Yo Creo contó con la participación de Gente de Zona (alcanzando reconocimiento de Platino). Ahora con "Perdiendo la Cabeza" el hijo pródigo de Huamantla entra de lleno a los ritmos latinos y lo hace en el momento justo en que empieza a cerrar la etapa de Guerra, el álbum certificado Platino más Oro que tendrá su cierre en México con un magno show 360° en la Arena CDMX. Esto luego de más de 100 shows con llenos totales en Estados Unidos, España, Argentina, Chile, Perú, Costa Rica, Guatemala, El Salvador, entre otros; sin contar, claro, con su pasada actuación en el Hipódromo Palermo (Argentina) donde más de 15 mil almas se rindieron ante su despliegue de talento.
"Perdiendo la Cabeza" sin lugar a dudas será un nuevo éxito en la carrera de Rivera. Un cantautor que no deja de sumar logros, como lo demuestran las certificaciones que ostentan todos sus álbumes de estudio, así como las nuevas reconocimientos que logran canciones como "Lo Digo", "Me Muero" o "Que Lo Nuestro Se Quede Nuestro" que la semana pasada, en nuestro país, obtuvo Cuádruple Platino y que en España y Colombia es Oro. Un hecho que no es ninguna sorpresa si se toma en cuenta que Carlos es de los artistas más completos de la actualidad: Como compositor ha traducido en versos las emociones de toda una generación y como cantante ha demostrado un inigualable estilo con el que se ha robado el corazón de millones de personas.
Certificaciones:
Álbumes:
Carlos Rivera – Oro (México)
Mexicano – Oro (México)
El Hubiera No Existe – Platino + Oro (México)
Con Ustedes Carlos Rivera En Vivo – Oro (México)
Yo Creo – Doble Platino + Oro (México)
Guerra – Platino + Oro (México)
Sencillos:
"Cómo Pagarte" – Triple Platino (España) Oro
"Lo Digo" ft Gente de Zona – Platino
"Me Muero" – (Mex) Doble Platino / (Perú) Platino / (EE.UU.) Oro
"Que lo Nuestro se Quede Nuestro" – (México) Cuádruple Platino / (Perú) Platino / (España) Oro / (Colombia) Oro
"Regrésame mi Corazón" – Platino + Oro
"Sólo Tú" – (España) Platino
"Sería Más Fácil" – Platino
"Te Esperaba" – Platino
Próximos shows de Guerra Tour 2020:
07 FEB | Festival Villa María | Córdoba, AR
15 FEB | Fiesta del Lago | El Calafate, AR
19 FEB | Carnaval Campeche | Campeche, MX
22 FEB | Carnaval de Mazatlán | Sinaloa, MX
28 FEB | Arena Monterrey | Nuevo León, MX
14 MAR | Foro GNP | Yucatán, MX
04 ABR | Estado Nacional | San José, CR
17 ABR | Radio Disney | Buenos Aires, AR
08 MAY | Plaza de Toros Nuevo Progreso | Jalisco, MX
13 MAY | Palenque de Hermosillo | Sonora, MX
15 MAY | Palenque de Obregón | Sonora, MX
05 JUN | Arena CDMX | CDMX, MX
12 JUL | Festival Jardins Pedralbes | Barcelona, ES
26 JUL | Concert Music Festival | Sancti Petri, ES
27 JUL | Teatro Real | Madrid, ES
01 AGO | Starlite Festival | Marbella, ES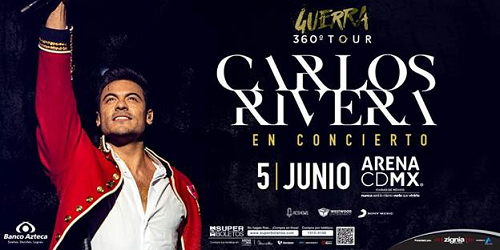 Latin Stars CARLOS RIVERA, BECKY G & PEDRO CAPÓ Release New Song "PERDIENDO LA CABEZA"
Carlos Rivera, Becky G & Pedro present "PERDIENDO LA CABEZA" a fun song with touches of ranchera.
With over 100 sold-out shows in Latin America, Carlos Rivera will conclude his Guerra Tour in Mexico with an amazing 360° show in the Mexico City Arena on June 5 and close the world tour tour on August 1st at Starlite, Marbella
MIAMI (January 31, 2020) – With a social media post made last December, Carlos Rivera's millions of followers 'Lost their heads' when the singer, who is known for his powerful pop ballads, was seen with Becky G & Pedro Capó, two of the most important stars in Latin music. The photo generated a lot of buzz; however, the result will exceed any expectations. "Perdiendo la Cabeza" is a new gem in the career of the talented Mexican artist.
Carlos surprises his fans with this song and makes it clear that he keeps growing and reinventing himself as an artist. "The new pop is this, it is what we are listening to, it is what infects us to dance," said the original from Huamantla, Mexico. "Perdiendo la Cabeza" is his very personal way of approaching the new wave of Latin pop. With a more romantic and fun sound this record shows that global fusions can be enjoyed by all.
This record has a different sound from what we are used to hearing from Carlos Rivera. Rivera's signature sound is felt from the very beginning thanks to a guitar rift combining a traditional Mexican sound with a global sound achieved with the strength of his guest artists. "The presence of Becky and Pedro was very important because we know each other and I wanted to be surrounded by friends," added the singer who looks cheerful in the video next to Pedro Capó dressed as Mariachis trying to conquer the talented Becky G.
The video directed by Nuno Gomes, creator of some of the most captivating music videos of the music industry in the last years, including videos for Maluma, Ozuna, Bad Bunny, Reik, Camila, among others. The video shows a friendly competition trying to convince Becky G to fall in love is a great setting for this song written by Carlos with Andrés Torres and Mauricio Rengifo, the creative duo behind many hits by Luis Fonsi, Sebastián Yatra, Morat and Thalía, among others.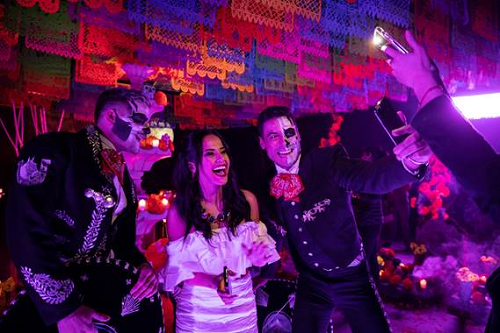 This is not the first time Carlos has explored different sounds. He previously showed his versatility with "Lo Digo", which is in the deluxe edition of his album Yo Creo had the participation of Gente de Zona (reaching Platinum certification in Mexico). With the release of "Perdiendo la Cabeza" the prodigal son of Huamantla ends his Guerra era, with a great 360° show at the Mexico City Arena. After having over 100 sold-out shows in the U.S., Spain, Argentina, Chile, Perú, Costa Rica, Guatemala, El Salvador, and more.
"Perdiendo La Cabeza" is a new hit for Rivera who achieved a historic sold out at the Palermo Hippodrome (Argentina) last December, in which more than 15,000 souls surrendered to the display of his virtuosity. Carlos is one of the most complete artists of today: as a composer, he has translated in versus the emotions of an entire generation and as a singer, he has personified his own unique style, which he has used to steal the hearts of millions of people around the world.
Upcoming Guerra Tour 2020 Shows:
07 FEB | Festival Villa María | Córdoba, AR
15 FEB | Fiesta del Lago | El Calafate, AR
19 FEB | Carnaval Campeche | Campeche, MX
22 FEB | Carnaval de Mazatlán | Sinaloa, MX
28 FEB | Arena Monterrey | Nuevo León, MX
14 MAR | Foro GNP | Yucatán, MX
04 ABR | Estado Nacional | San José, CR
17 ABR | Radio Disney | Buenos Aires, AR
08 MAY | Plaza de Toros Nuevo Progreso | Jalisco, MX
13 MAY | Palenque de Hermosillo | Sonora, MX
15 MAY | Palenque de Obregón | Sonora, MX
05 JUN | Arena CDMX | CDMX, MX
12 JUL | Festival Jardins Pedralbes | Barcelona, ES
26 JUL | Concert Music Festival | Sancti Petri, ES
27 JUL | Teatro Real | Madrid, ES
01 AGO | Starlite Festival | Marbella, ES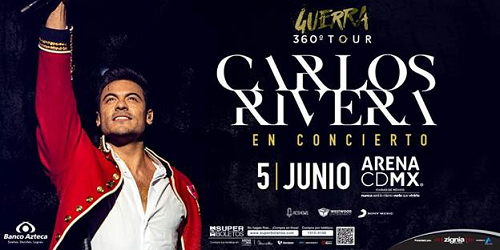 Sigue a CARLOS RIVERA en / Follow CARLOS RIVERA on:
https://www.carlosrivera.com.mx/
https://www.facebook.com/carlosrivera.mx
https://twitter.com/_CarlosRivera
https://www.instagram.com/_carlosrivera