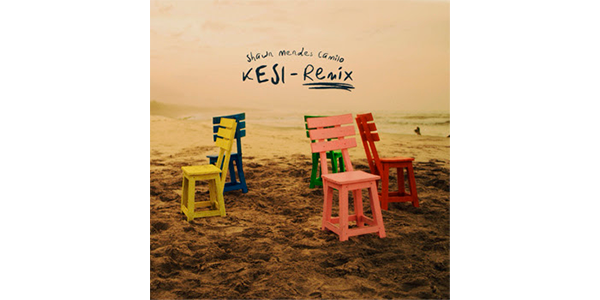 July 14th, 2021
CAMILO y SHAWN MENDES unen culturas en extraordinaria colaboración "KESI (REMIX)"
KESI" del galardonado artista colombiano ya se encuentra en todas las plataformas digitales alrededor del mundo
El nuevo remix marca la primera colaboración en español de la superestrella global Shawn Mendes
MIAMI (14 de julio de 2021) – El artista multi-diamante Camilo acaba de lanzar oficialmente su nuevo sencillo "KESI" de su más reciente álbum Mis Manos con la colaboración de la superestrella global Shawn Mendes.
La unión entre ambos artistas surgió de la admiración entre ellos y de un mensaje directo de parte de Mendes a Camilo expresando lo mucho que le gustaba "KESI". A los pocos días, el canadiense grabó sus versos en inglés y español mientras que Camilo regrabó su parte. El resultado promete convertirse en el himno de verano y en otro éxito radial para ambas estrellas de la música.
"'KESI' es una de mis canciones favoritas de todo mi repertorio. Nunca pensé en hacerle un remix hasta que unos de mis artistas preferidos, Shawn Mendes, me lo propuso directamente. Siendo un gran fan de su música, la pura idea de escucharlo cantando en español es algo que me hacía mucha ilusión. El hecho de que él decidiera cantar en nuestro idioma por primera vez en su carrera en una canción conmigo es uno de los honores más grandes que he tenido en mi trayectoria como artista. Es una canción llena de vida, sonrisas, energía y felicidad contagiosa como ninguna otra y la amistad que nos une es tan honesta y cercana que anima y le da espíritu a esta colaboración," expresó Camilo.
Las voces de ambos brillan al ritmo de la Champeta, género originario de Cartagena, Colombia, que cabe destacar, es la primera colaboración en español de Mendes en su exitosa carrera.
"KESI" forma parte del álbum doble platino Mis Manos, segunda producción discográfica de Camilo, quien para el lanzamiento mundial grabó un visual de la canción el pasado mes de marzo y se convirtió en un éxito a pocas horas, generando más de 38 millones de vistas en YouTube.
Haciendo eco del sentimiento de Camilo, Mendes declaró: "Mi parte favorita de trabajar con Camilo es estar a su alrededor, su energía es contagiosa y hermosa. Cuando nos conocimos hubo un clic inmediato, y siento que es mucho más fácil trabajar con alguien una vez que sientes que eres amigo de ellos. Te emocionas mucho más con el lanzamiento".
Actualmente, Camilo se encuentra recorriendo España con su completamente vendido Mis Manos Tour, el cual dio inicio el pasado 7 de julio con conciertos masivos en Murcia, Valencia Chiclana de la Frontera (Cadiz), Benicassim y que continuará esta semana en Santiago de Compostela y tres conciertos en el afamado Starlite de Marbella, que cabe destacar, lo convierte en el primer artista internacional en agotar tres noches consecutivas en dicho recinto.
A continuación, las fechas de Mis Manos Tour España (Julio/Septiembre) 2021:
15 de Julio – Santiago de Compostela – O Som Do Camiño Perseidas
18 de Julio – Marbella – Starlite
20 de Julio – Palma de Mallorca – Son Fusteret
5 de Septiembre – Madrid – WiZing Center
8 de Septiembre – Barcelona – Estadi Olimpic Lluis Companys
11 de septiembre – Merida – Stone Music Festival
15 de Septiembre – Granada – Plaza de Toros de Granada
16 de Septiembre – Sevilla – Estadio Olimpico de la Cartuja
18 de Septiembre – Avilés – Pabellón de la Magdalena
---
CAMILO And SHAWN MENDES Release "KESI (REMIX)"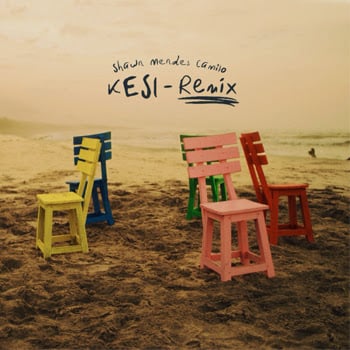 MIAMI (July 14, 2021) – Colombian singer-songwriter, musician, and producer Camilo and GRAMMY® nominated multi-platinum singer-songwriter Shawn Mendes have teamed up to release "KESI (Remix)" which is out now on all streaming platforms. This release comes as Camilo embarks on his global Mis Manos Tour, which kicked off in Spain last week, and includes 16 sold out dates in the U.S. and Puerto Rico.
Camilo revealed "KESI" is one of his favorite songs in his repertoire. Adding, "I never thought about doing a remix until Shawn Mendes, one of my favorite artists, mentioned it to me. Being a big fan of his music, the pure idea of hearing him singing in Spanish is something that made me so excited. The fact that he decided to sing in our language for the first time in his career on a song with me is one of the greatest honors I've had in my career as an artist. It is a song like no other, full of life, smiles, energy and contagious happiness, and our friendship being so honest and close gives spirit to this collaboration."
Rooted in a traditional Champeta, a genre that originates from the coast of Colombia, "KESI" marries Afro-Caribbean rhythms with Camilo's signature style. Infused with the skilled musicianship of both Camilo and Mendes, the remix offers fans a soundtrack for the summer, combining English and Spanish with impeccable vocals from both artists.
Echoing Camilo's sentiment, Mendes stated,"My favorite part of working with Camilo is just being around him, his energy is infectious and beautiful. When we met there was an immediate click, and I feel like it makes it so much easier to work with somebody once it feels like you're friends with them. You get so much more excited about the release."
About Camilo:
Armored with impeccable writing skills and intuitive sensitivity, Colombian singer-songwriter, musician, and producer Camilo is considered one of the greatest exponents of the new Pop of his generation. Hailed by The New York Times as a singer who "writes hits even when he's not trying" and named by PAPER as one of the "12 Latinx Artists to Stream Right Now," Camilo has amassed over 13 billion views and streams across all digital platforms worldwide. In 2021, he released his latest album Mis Manos, which includes singles "Vida de Rico" which hit #1 on Billboard's Latin Pop Airplay Chart, "BEBÉ" with El Alfa and "Ropa Cara," all of which have charted on Spotify's Global Top 50. Mis Manos is the follow-up to his first globally distributed album Por Primera Vez, which hit #1 on Billboard's Latin Pop Album Chart and was certified platinum in 4 different countries, including the US. Por Primera Vez features the hit single "TUTU" ft. Pedro Capó, which was certified 10x platinum and has accrued over 1.7 billion worldwide streams across all platforms. Earlier this year Camilo scored a #1 hit on the Billboard Latin Rhythm Airplay chart with "Tattoo Remix," alongside Puerto Rican urban sensation Rauw Alejandro. Before debuting as a major performing artist, Camilo wrote smash hits for artists like Bad Bunny ("Si Estuviésemos Juntos"), Becky G and Natti Natasha ("Sin Pijama"), and many others. In addition to his streaming and chart success, Camilo has been the recipient of numerous accolades including, a Latin GRAMMY, seven Latin GRAMMY nominations, a GRAMMY nomination, five Premio Lo Nuestro Awards, a Latin American Music Award and most recently was nominated for 12 Premios Juventud Awards.
About Shawn Mendes:
GRAMMY nominated Toronto born multi-platinum singer/songwriter Shawn Mendes released his highly anticipated 4th studio album, Wonder, in 2020 to rave reviews. The album debuted as #1 on the Billboard 200 Chart and in multiple worldwide markets, marking Shawn's fourth straight #1 album. In 2019 Shawn was nominated for a GRAMMY for "Best Pop Duo/Group Performance" for "Señorita," his single with Camila Cabello. In 2018 he released his self-titled platinum album, which debuted at #1 on the Billboard 200 Chart as well as multiple worldwide markets. The album became one of the top best-selling album debuts of 2018 and made Shawn the third youngest solo artist to ever have three consecutive #1 albums. Shawn was nominated in two categories for the 61st annual GRAMMY® Awards, including "Song of the Year" for "In My Blood" and "Best Pop Vocal Album" for SHAWN MENDES. The same year Shawn debuted his certified platinum single, "If I Can't Have You," at #1 on iTunes and #2 on the Billboard Hot 100 chart. With "Señorita" at #1 and "If I Can't Have You" at #2, Shawn is the first male solo artist ever to simultaneously hold the #1 and #2 place on the Top 40 chart. On his last world tour, he sold out his first ever stadium show in minutes at Rogers Centre in his hometown of Toronto. The tour began in March 2019, with over 100 dates across the UK, Europe, North America, Latin America, Asia and Australia/New Zealand.
In April 2017, Shawn released his 3x platinum hit "There's Nothing Holdin' Me Back." The track scored Shawn his second #1 single at Top 40 radio and on Billboard's Pop Songs chart, joining his 7x platinum single "Stitches." Shawn has nearly 50 Billion global streams and 8.6 billion video views. He topped Billboard's "21 Under 21" in 2017 and 2018 and has been featured on Forbes "30 Under 30," Spotify's "25 Under 25," and Time Magazine's "Time 100 Most Influential". In 2018, ROI Influencer Media recognized Shawn as the #1 Most Influential Artist and #1 Most Influential Teen across all social media platforms.
In 2019 Shawn launched The Shawn Mendes Foundation, which seeks to inspire Shawn's audience, the youth generation of today—to learn about those causes that they are passionate about, and help empower them to use the voice they have to bring change to the world by taking action & giving back. As part of its ongoing mission, the Foundation provides resources and support to amplify the voices, messages, and platforms of young leaders driving positive change.
Sigue a Camilo en // Follow Camilo on: