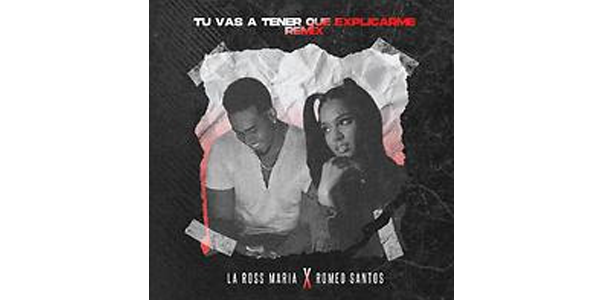 October 23rd, 2020
LA ROSS MARÍA & El Rey De La Bachata "ROMEO SANTOS" lanzan "TÚ VAS A TENER QUE EXPLICARME REMIX"
MIAMI (23 de octubre de 2020) – La Ross María, artista exclusiva de 829Music Mundial/Nueva Escuela, no es solamente una de las revelaciones más jóvenes de la música latina, sino también es una de las más innovadoras. Y hoy esta cantautora nos revela su primera colaboración en grande, "Tú Vas a Tener Que Explicarme Remix" junto al Rey de la Bachata, Romeo Santos. El sencillo está disponible en todas las plataformas digitales de música, y el video se puede disfrutar a través del canal de YouTube de La Ross María.
Esta artista dominicana, que está por cumplir 17 años, creó su canal de YouTube apenas hace 10 meses. En este corto espacio de tiempo se ha convertido en un fenómeno gracias a su estilo que rescata el romanticismo atemporal y lo actualiza para una nueva generación, fusionando elementos de rap, improvisación y música urbana. Destacando su cautivante voz, al igual que la guitarra acústica y acordes con influencia de R&B y neo-soul, la versión original de "Tú Vas a Tener Que Explicarme" ha superado los 13 millones de views a tan solo dos meses de su estreno.
Ahora, La Ross María une fuerzas con Romeo Santos, quien quedó muy impresionado con la canción y quería solidarizarse a esta propuesta. Romeo aporta su voz inigualable y su letra seductora: "Oye chamaquita mi intención no es un desaire, cuando cumples 21 yo me atrevo a involucrarme".
El concepto del video musical gira entorno a una videollamada que hacen los dos intérpretes mientras apreciamos detalles como la admiración artística que tiene La Ross María para Romeo Santos, y las actividades de Romeo en su vida cotidiana y el estudio de grabación.
Este remix de la autoría de La Ross María, Anthony Santos y Rafael Junior Santana, cuenta con producción de JS Produce y Romeo Santos.
Siguiendo en el rubro acústico, Romeo recientemente lanzó una versión unplugged de su canción "El Beso Que No Le Di", disponible exclusivamente en Amazon Music Latin.
Con el lanzamiento de "Tú Vas a Tener Que Explicarme Remix", La Ross María toma sus primeros pasos hacia la internacionalización de la mano del Rey de la Bachata.
Acerca de Romeo Santos:
El cantante y compositor estadounidense de origen dominicano, Romeo Santos, es un artista musical de bachata conocido por sus letras sensuales y ritmos nostálgicos. Ampliamente considerado el rey de la bachata urbana, Santos modernizó y re-popularizó el género a principios de la década del 2000 como el vocalista principal del grupo juvenil masculino Aventura, que cofundó junto a su primo Henry, y los hermanos Max y Lenny Santos (Por casualidad, todos tienen el mismo apellido pero no son familia). Nacido y criado en Bronx, Nueva York, la música de Santos en Aventura fusionó la bachata con el R&B, el hip hop y el rock 'n roll, revolucionando su sonido para siempre. En el 2002, Aventura lanzó su primer éxito que alcanzó la cima de las listas, "Obsesión", de su segundo disco llamado We Broke the Rules. Lo que no sorprendió a nadie fue que Santos siguió rompiendo las reglas.
Luego de su partida de Aventura para desarrollar su anticipada carrera como solista, Santos renovó el género de la bachata para un público más joven, bilingüe y bicultural mientras conservaba la familiar nostalgia de su infancia latina. Hizo su debut como solista con el exitoso sencillo "You", seguido de "Promise" con la participación de Usher, que ocupó el primer puesto de la lista de Billboard Hot 100 en el 2011.
Su álbum Formula, Vol. 1 fue su primer disco de extensión completa como artista solista. Allí Santos fusionó la bachata con el R&B y el flamenco, con colaboraciones con músicos de otros géneros, como Lil Wayne y Usher. El disco alcanzó el primer lugar de la lista de los principales álbumes latinos de Billboard y recibió tres certificaciones platino de la RIAA. En 2012 grabó su disco en vivo The King Stay King: Sold Out At Madison Square Garden.
Su segundo álbum Formula, Vol. 2 contó con la participación de los artistas musicales de rap y pop, Drake y Nicki Minaj, que eligieron cantar fragmentos en español. Lanzado en el 2012, el segundo disco de Santos, se convirtió 11 veces multiplatino. El video musical de su sencillo "Propuesta Indecente" tiene más de 1,600 millones de reproducciones en YouTube. Santos regresó a los escenarios en el 2017 con su tercer disco, Golden, que fue lanzado el día de su cumpleaños.
Su cuarto álbum, Utopia, representó el mayor debut de un disco latino en su semana de lanzamiento en el 2019 y le dio a Santos su quinto puesto número 1 consecutivo en las listas Top Latin de Billboard. En Utopia, Santos colaboró con los bachateros a los que creció admirando, regresando a sus raíces y celebrando la música popular dominicana. Su video para "El beso que no le di" junto a Kiko Rodriguez, tiene más de 67 millones de reproducciones en YouTube y alcanzó el 6to. lugar en la lista de las principales canciones latinas de Billboard.
Los oyentes de Amazon Music pueden encontrar la nueva versión de Romeo Santos de "El beso que no le di" en Tierra Tropical, la lista de reproducción de Amazon Music que reúne a los sabores musicales tropicales en un solo lugar. Los clientes también pueden decir: "Alexa, reproduce la canción Amazon Original de Romeo Santos" o "Alexa, pon el Amazon Original de Romeo Santos" en la aplicación Amazon Music para iOS y Android, y en dispositivos con soporte para Alexa. Además del nuevo sencillo, los oyentes de Amazon Music pueden acceder a cientos de Amazon Originals con artistas tanto emergentes como consolidados en numerosos géneros musicales, disponibles para reproducirlos y comprarlos solo en Amazon Music.
---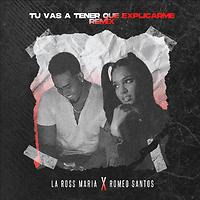 LA ROSS MARÍA & The King Of Bachata "ROMEO SANTOS" Release "TÚ VAS A TENER QUE EXPLICARME REMIX"
MIAMI (October 23, 2020) – La Ross María, an 829Music Mundial/Nueva Escuela exclusive artist, is not only one of the youngest rising stars in Latin music, she is also one of the most groundbreaking. And today this singer-songwriter reveals her first superstar collaboration, "Tú Vas a Tener Que Explicarme Remix" (You're Going to Have to Explain To Me), with the King of Bachata, Romeo Santos. The single is available on all digital platforms, with the music video available on La Ross María's YouTube channel.
This Dominican artist, who is about to turn 17, and who created her YouTube channel 10 months ago, is already a phenomenon. Her innovative style embraces timeless romanticism, molding it to the 2020s by fusing elements of rap, freestyle and urban music. She dazzles us with her captivating voice, backed by a jazzy, neo-soul and R&B influenced acoustic guitar-framed production. The original version of "Tú Vas a Tener Que Explicarme" has surpassed 13 million views within two months of its premiere.
Now, La Ross María joins forces with Romeo Santos, who was very impressed with the song and was thrilled to hop on the track. Romeo offers his unmistakable voice and his seductive lyrics: "Oye chamaquita mi intención no es un desaire, cuando cumples 21 yo me atrevo a involucrarme" (Hey girl, I don't mean to snub you, when you turn 21 I'll dare to get involved).
The music video's concept is centered on a video call between the two singers, with visuals that showcase La Ross María's admiration for Romeo Santos's career, as well as Romeo's daily activities and work in the studio.
This remix is written by La Ross María, Anthony Santos, and Rafael Junior Santana and is produced by JS Produce and Romeo Santos.
Continuing in the acoustic vein, Romeo recently dropped an unplugged version of his song "El Beso Que No Le Di" (The Kiss That I Didn't Give Her), available exclusively via Amazon Music Lat!n.
With the release of "Tú Vas a Tener Que Explicarme Remix," La Ross María takes her first steps towards international fame under the skilled guidance of the King of Bachata.
About Romeo Santos:
Dominican-American singer-songwriter Romeo Santos is a bachata artist known for his sensual lyrics and nostalgic beats. Widely considered the king of urban bachata, Santos modernized and re-popularized the genre in the early 2000s as the lead vocalist of the boy-band Aventura, which he co-founded with his cousin Henry, and brothers Max & Lenny Santos (Though they share a last name, they are not related). Born and bred in the Bronx, New York, Santos' music in Aventura fused bachata with R&B, hip hip, and rock 'n roll, revolutionizing its sound forever. In 2002, Aventura released their first chart-topping hit "Obsesión" from their second album We Broke the Rules. To no one's surprise, Santos would continue breaking the rules.
Following his split from Aventura to pursue a much-anticipated solo career, Santos reworked the bachata genre for a younger, bilingual, and bicultural audience, while preserving the familiar nostalgia of growing up Latinx. He made his solo debut with the hit single "You," followed by "Promise" featuring Usher, which peaked at No. 1 on Billboard's Hot 100 in 2011.
His album Formula, Vol. 1 marked the debut of his first full-length album as a solo artist. In it, Santos fuses bachata with R&B and flamenco, with crossover collaborations with Lil Wayne and Usher. The album peaked at No. 1 on Billboard's Top Latin Albums and was certified three times platinum by the RIAA. In 2012, recorded his live album The King Stay King: Sold Out at Madison Square Garden.
His second album Formula, Vol. 2 featured the rap and pop artists Drake and Nicki Minaj, who both chose to sing bits in Spanish. Released in 2012, Santos' sophomore album went multi-platinum 11 times over. The music video for his single "Propuesta Indecente" has over 1.6 billion views on YouTube. Santos returned to the stage in 2017 with his third album Golden, which was released on his birthday.
His fourth album Utopia scored the biggest debut week for a Latin album released in 2019, earning Santos his fifth consecutive No. 1 on Billboard's Top Latin Charts. In Utopia, Santos collaborates with the bachateros he grew up admiring, returning to his roots by celebrating Domincan Folklore. His video for "El Beso Que No Le Di" with Kiko Rodriguez has over 67 million views on YouTube and peaked at No. 6 on Billboard's Hot Latin Songs.
Amazon Music listeners can find Romeo Santos' reimagined version of "El Beso Que No Le Di" on the Tierra Tropical, Amazon Music's playlist featuring all the tropical musical flavors in one place. Customers can also simply ask, "Alexa play the Amazon Original by Romeo Santos" or "Alexa, pon el Amazon Original de Romeo Santos" in the Amazon Music app for iOS and Android and on Alexa-enabled devices. In addition to the new track, Amazon Music listeners can access hundreds of Amazon Originals featuring both emerging and established artists across numerous genres, available to stream and purchase only on Amazon Music.
Sigue a Romeo Santos en // Follow Romeo Santos on:
www.facebook.com/RomeoSantosOfficial
www.twitter.com/RomeoSantosPage
www.youtube.com/user/RomeoSantosVEVO
Sigue a La Ross María en // Follow La Ross María on:
www.instagram.com/rossmariaofficial
www.twitter.com/LaRossMaria1