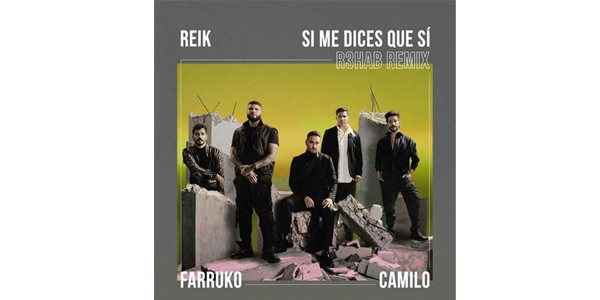 April 7th, 2020
REIK lanza junto a FARRUKO y CAMILO el remix de su nuevo hit "SI ME DICES QUE SÍ" realizado por el ícono neerlandés del house R3HAB
MIAMI (7 de abril, 2020) – REIK, el grupo líder de México, junto a las estrellas Camilo y Farruko, se unen al artista ícono del House, R3HAB logrando gran revuelo a nivel internacional con el lanzamiento del remix de su nuevo sencillo, 'Si Me Dices Que Si'.
'Si Me Dices Que Si', actualmente ha acumulado más de 37 millones de views en YouTube, destacándose por dos semanas consecutivas en el Top 10 de la radio general en México y ocupando los primeros lugares en el listado Latin Pop de Billboard en los Estados Unidos.
El tema, compuesto por Julio, Bibi, Camilo y Farruko que inicialmente comenzó como balada, al momento de que los cuatro artistas mezclaron sus sonidos, el resultado fue una mezcla de pop y urbano, dando un giro al origen de la canción que ahora cuenta con un increíble remix realizado por R3HAB, reconocido DJ y productor a nivel mundial.
R3HAB, el cual ha recibido reconocimientos por sus contribuciones al House y EDM, que lo ha posicionado como uno de los 100 mejores DJ´s del mundo por la revista DJMag; y entre sus logros se encuentra el haber trabajado a lo largo de su carrera, en remixes de canciones de destacados artistas como Madonna, Calvin Harris, Miley Cyrus, Maluma, Bruno Mars, entre otros.
El nuevo remix de 'Si Me Dices Que Si', consagra el éxito de REIK, reafirmándose como el grupo internacional de origen mexicano más importante del momento. Durante sus 15 años de carrera, REIK deja de manifiesto los múltiples Discos de Platino que ostentan, además de sus más de tres mil millones de streams en las plataformas digitales y sus más de 16 millones de oyentes mensuales en Spotify. Recientemente, fue galardonado con el premio a la categoría de "Artista Mexicano Más Escuchado en el Mundo", en la primera edición de los Spotify Awards.
El jueves pasado, el grupo ofreció un concierto desde casa para acompañar a sus seguidores en estos momentos de apoyo y unión. Durante la transmisión llevada a cabo en su canal de YouTube, se reunieron más de 27 mil personas en vivo, posicionándose en el #3 de Tendencias del chart de Youtube en México desde donde Jesús, Julio y Bibi enviaron un mensaje de fuerza y ánimo el cual fue reforzado con algunos de sus temas más exitosos como: "Amigos con derechos", "Me Niego", "Creo en ti", "Ya me enteré", "Yo quisiera", entre otros.
REIK también se enlazó con sus fans a través de videollamadas para compartir el especial momento, donde también dieron a conocer que su concierto en el Auditorio Nacional se pospuso para el 4 de febrero de 2021, mientras que las demás fechas de su gira "En Cambio", serán serán anunciadas a través de sus redes sociales.
El video del show realizado en el Auditorio Nacional de la ciudad de México superó las 200 mil reproducciones a tan solo 24 horas de su realización. Revive el show dando click en la imagen.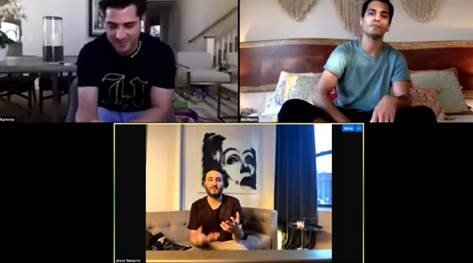 Escucha "Si me dices que sí (R3HAB Remix)" aquí
Ve el videolyric aquí
---
REIK Releases "SI ME DICES QUE SÍ" REMIX With FARRUKO & CAMILO Produced By The Dutch House-Music Icon R3HAB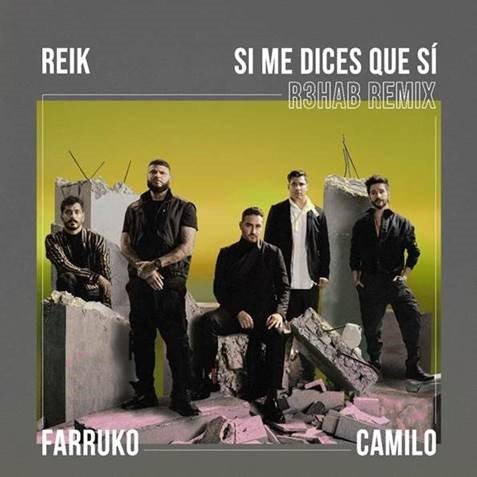 The Origial Version Of This Song Continues Trending Around The World
MIAMI (April 7, 2020) – REIK releases the official remix of the global smash "Si Me Dices Que Si" with house-music icon R3HAB. The original version, which also features the acclaimed artists Farruko and Camilo, has surpassed 37 million views on YouTube and is in its second week in the Top 10 of Mexico's airplay charts and Billboard's Latin Pop chart in the U.S.
Written by REIK's guitar players Julio Ramírez and Bibi Marín, along with Camilo and Farruko, "Si Me Dices Que Sí" started out as a ballad. But when the artists started mixing their styles together it became an urban-pop fusion. And now, the record takes on new energy with the official remix by R3HAB, the producer and DJ who is respected around the world for his contributions to the house and EDM genres. Last year, DJMag named him among the top 100 DJs in the world. He has remixed songs for such greats as Madonna, Calvin Harris, Miley Cyrus, Maluma and Bruno Mars.
This remix solidifies REIK's status as Mexico's most internationally renowned group, a distinction also confirmed by the trio's collaborations with A-list artists such as Ozuna, Maluma, J Balvin, and more. REIK has earned multiple Platinum records, over 3 billion streams and has over 16 million monthly listeners on Spotify. At the recent first-annual Spotify Awards, Reik was named the Most Listened-To Mexican Artist in the World.
Last Thursday, the group streamed a concert from the members' respective homes, in solidarity with the global #StayAtHome movement. The performance reached #3 on YouTube's Trending chart in Mexico, with over 27,000 fans viewing it live and over 200,000 watching it within 24 hours of its premiere. The members of REIK – Jesús Navarro, Julio Ramírez and Bibi Marín – offered a message of motivation and hope, while performing their hits including "Amigos con Derechos", "Me Niego", "Creo en Ti", "Ya Me Enteré" and "Yo Quisiera". The members even delighted and surprised some of their lucky fans with personal video calls.
REIK also announced that its concert at Mexico City's Auditorio Nacional has been rescheduled for February 4, 2021, while new dates for the other pending En Cambio Tour dates will be revealed on the group's social-media channels.
Click the below image to enjoy REIK's streaming concert!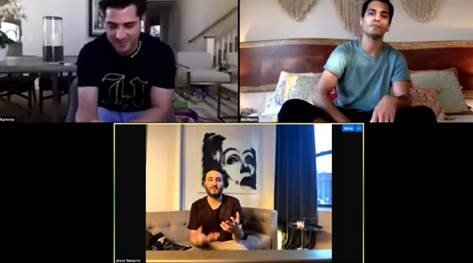 Listen To "Si Me Dices Que Sí (R3HAB Remix)" Here
Watch The Lyric Video Here
Sigue a REIK en / Follow REIK on: