September 18th, 2020
LA OREJA DE VAN GOGH lanza UN SUSURRO EN LA TORMENTA, su esperado nuevo álbum de estudio
MIAMI (18 de septiembre de 2020) – La Oreja de Van Gogh presenta Un Susurro En La Tormenta, un nuevo álbum que promete superar todas las expectativas.
Un Susurro En La Tormenta es un compendio de buenas canciones que desprenden el inconfundible aroma de La Oreja de Van Gogh, a modo de himnos tocados por la varita mágica de su particular estilo y así se ha comprobado con los temas adelantados, de trazo tan heterogéneo y rico en matices como perfectamente identificable.
Un Susurro En La Tormenta es el romanticismo épico de "Abrázame", es la energía de "Te Pareces Tanto a Mí" y es el torrente de intensidad de "Durante una Mirada", las tres propuestas ya avanzadas por el grupo de Donostia. Pero es, por supuesto, mucho más: hasta 11 canciones que dan nuevo impulso a la carrera de uno de los grupos más representativos del pop en español de las últimas dos décadas.
Esos nuevos temas son como un abanico que abarca toda la gama de colores de La Oreja. La melancolía de "Galerna", liderada por la suavidad de su piano, contrasta con la euforia de "Me Voy de Fiesta", y a medio camino entre ambas brotan gemas como "Menos Tú", un tema esencialmente romántico que termina electrizante. Es una evolución similar a la de "Doblar y Comprender", un hit agazapado detrás de una espectacular instrumentación. La brisa country de "Como Un Par de Girasoles", la garra de "Sirenas" o "¿Lo Ves?"…
Las buenas canciones actúan como hilo conductor de Un Susurro En La Tormenta, a veces predominantemente acústicas y de golpe una explosión de instrumentación, en ocasiones íntimas y en otras expansivas, hasta completar una colección al nivel de los mejores álbumes de la veterana banda.
Un Susurro En La Tormenta es el octavo disco de estudio de La Oreja De Van Gogh, que se suma a su envidiable trayectoria musical. LODVG cuenta con siete álbumes de estudio, cuatro recopilatorios y cinco en directo, más de ocho millones de ejemplares vendidos en el mundo, por lo que les convierte en el grupo español con mayor nivel de ventas del siglo XXI.
A sus logros también se les incluye el haber recibido 50 discos de platino y oro, incontables números 1 y premios como el Latin GRAMMY®, el MTV internacional, el MTV Latino, cinco Ondas y dos Premios de la Música.
---
LA OREJA DE VAN GOGH To Release Highly-Anticipated Upcoming Album UN SUSURRO EN LA TORMENTA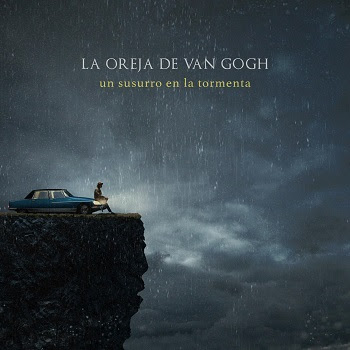 MIAMI (September 18, 2020) – La Oreja de Van Gogh is set to unveil Un Susurro En La Tormenta —an album destined to raise whatever bar set for them.
Un Susurro En La Tormenta emerges as a collection of great songs that give off the unmistakable aroma of LODVG and anthems touched with their unique style. This has been confirmed by the tracks dropped in advance, so heterogeneous and rich in nuances as they are perfectly recognizable.
Un Susurro En La Tormenta boasts epic romanticism "Abrázame", power "Te Pareces Tanto a Mí" and a torrent of intensity "Durante una Mirada" on all three singles dropped in advance by the San Sebastián-based band. But the album is much more than that: all 11 songs featured certainly give a fresh energy to one of the most representative pop bands singing in Spanish, whose career has spanned two decades now.
These new songs are more like a wide rainbow showing all the colors defining La Oreja's sound. The melancholy on the soft piano-led "Galerna" is in clear contrast with "Me Voy de Fiesta" and, halfway between both, there emerges "Menos Tú", an essentially romantic gem with an electrifying ending. "Doblar y Comprender" shows a similar evolution: a hit hidden behind a spectacular instrumentation. There's a Country music flair in "Como Un Par de Girasoles" and power in "Sirenas" and "¿Lo Ves?".
The driving force behind Un Susurro En La Tormenta are great songs —sometimes dominantly acoustic but suddenly emerging as an instrumental explosion; at times intimate but expansive at other times— which make up a collection as good as the best albums released by this seasoned Spanish band.
Un Susurro En La Tormenta is La Oreja de Van Gogh's eighth studio album. With this release, the band builds on an admirable discography: seven studio albums, four compilations and five live albums. With eight million copies sold worldwide, LODVG has become the best-selling Spanish band in the XXI Century.
They've also received 50 Platinum and Gold Records, multiple #1 songs and the Latin GRAMMY®, the MTV International Award, the Latin MTV Award, five Ondas Awards and two Premios de la Música.
Sigue a LA OREJA DE VAN GOGH en / Follow LA OREJA DE VAN GOGH on:
www.facebook.com/Laorejadevangogh.Oficial
www.twitter.com/laorejadevgogh
www.instagram.com/laorejadevangogh